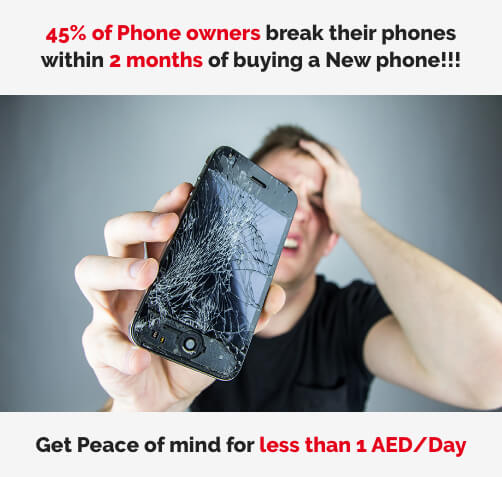 Extended Warranty
Accidental Damage
Drive Incremental Revenue

Retailers receive a revenue share from each protection plan sale, which goes straight to your bottomline and costs nothing to implement

Modern Customer Experience

Customers enjoy best in class product protection and speedy claim processing

Seamless Process!

Once the retailer is approved the retailer will receive a code which they need to use when buying the plans.
Here is how it works
Sign Up – Fill in basic details about your business & expected volumes
Partner Code – Once your application is approved we will assign you a Partner Code
Go to https://protect4less.ae, click on "Buy Protection" and use your Partner Code
Enter device details, process payments and create customer login for the customer to access the account anytime
You earn commissions for EVERY member you enroll and for AS LONG AS the member is active on the plan!
Extend the relationship with your customers!!
Protection plans give buyers the peace of mind to complete the purchase.
Should something go wrong later, our fast and easy claims resolution process
turns a negative moment into a positive, boosting customer loyalty and
increasing follow-on sales.
What we cover
Mobile Phone

Laptop

Tablet

Accessories
Frequently asked questions
What exactly is Protect4less?
Protect4less is a Subscription-based program that allows customers to buy unmatched device protection benefits for their cherished mobile phone and other electronic products they own.
As long as your subscription is active, your device is protected against accidental damage, theft by forced entry, PLUS an additional period of Extended Warranty against mechanical or electrical failures.
What's the difference between the manufacturer's warranty and a Protect4Less plan?
Manufacturer's warranty -
Most items purchased new come with a manufacturer's warranty, covering only mechanical or electrical failures due to parts or workmanship. Coverage lasts generally up to one year from the date of purchase
Most importantly, Manufacturer's Warranty DOES NOT cover common accidental damages like drops and spills
Protect4Less plan -
Protect4Less Protection plan covers common Accident damages like drops and spills from the day you subscribe to the plan
Protect4Less covers you above and beyond the manufacturer's warranty period to ensure there aren't ever gaps in coverage and your item stays protected even after the manufacturer's warranty period ends
Protect4Less also includes extended warranty covering mechanical or electrical failures over and above the 1 year standard manufacturer warranty provided by manufacturers from the date of device purchase. Protect4Less extended warranty continues after the manufacturer warranty expires
Why should I offer Protect4Less protection plans?
Protect4Less Protection plans provide peace of mind to customers when they buy electronics products from you and additional revenue to you!
Protect4lesss can actually increase purchase conversion, giving customers the confidence to buy, knowing that they are protected from mechanical or electrical failures, and accidents.
This is an opportunity for you to extend your relationship with the customers after the sale. Let's say the customer's item gets damaged, and they file a claim with Protect4Less. We will quickly resolve the claim by either having the device repaired or if it is a replacement case then the customer can be sent back to your store to buy a replacement device from you. The happy customer would be back to your store again to record a new sale and possibly buy other items at the same time!
What does it cost for me to offer Protect4Less protection plans as a retailer?
Protect4Less is completely free to retailers like you! We do all the work to provide protection coverage for customers' products and manage claims.
And you get to keep your share of every Protection Plan sale!
What's my risk if I offer Protect4Less protection plans?
There is ZERO risk on the merchant.
Protect4Less and our insurance partners take on the full responsibility for quickly responding to claims and covering any repairs or replacement costs.
What products does Protect4Less cover?
Mobile Phones, Tablets, Laptops, Pads, Smart Watches and related accessories.
How do I start selling?
Starting to sell Protect4Less protection plans is easy!
We will provide you a Retailer Agreement document which you need to sign and that's it – you will become our authorized Protect4Less Partner as a part of the P4L Partner Family! We will then provide you a Partner Code. Then just do the following to enroll new customers and start earning:
Go to protect4less.ae click on "Buy Protection" and use your Partner Code
Choose Customer's Device & enter your Partner Code
Process Payment
Create Customer Login for the Customer to access the account anytime
Add few Device details– you are done! New Customer successfully enrolled
How much will I earn?
You will earn healthy commissions on the retail price of every Protect4less protection plan you sell. The commission structure will be shared with you once your partner application is accepted.
You will earn commissions for EVERY member you enroll and for AS LONG AS the member continues to renew and is active on the plan!
When do I receive payments?
Monthly reports will be provided after every calendar month, showing the subscription plans sold, subscription amount collected and the total commission amount due.
If the total commission amount that is due is more than USD 100, then it will be paid to you and settled within the next 15 days from the calendar month.
If the total commission amount due is less than USD 100, then it will be carried forward to next month's report.
Will it be my responsibility to raise a claim and process it?
As a retailer you will not have anything to do with the Claims process
A Customer just has to log on to their Protect4less account and submit a simple claim form online.
Customers can choose a repair service center from a list as per their convenience. Customers are provided a Claim Reference Number against which they can go to their selected service center and drop off their item for repair.
Customers will be provided a receipt with an approximate date of completion of repairs and will be sent an email at every stage of repair. Customers can also check the status of the repairs online.
Most claims are resolved within 2 working days.